Eagles Nest Horse Corral is owned by James & Linda Kint in Mifflintown, Pennsylvania; about 45 minutes West of Harrisburg. Our goal here at the farm is to breed, sell & show miniature horses that represent the breed. All of our horses are either registered, AMHR, AMHR/AMHA or AMHR/ASPC. We are proud to be able to be part of these very special horses. Also, we are completely humbled by the huge generosity that other miniature horse breeders shown us, by sharing information as well as teaching and giving me pointers on prepping my own show horses.
We got started in miniature horses back in 2009, when we purchased a bred mare just for fun. Well she had her foal and I fell in love with it and the mare, and that was the beginning of it all. We had lots of ups and downs when we started till we were able to figure things out. I have always had horses, but they were full sized horses. I used to ride horses since I was a little girl, and now I would be a little scared.. I love the miniature horses as they are so much easier to handle, but do not get me wrong, every once in a while you come across a bad apple.
The stallions that call Eagles Nest Horse Corral their home are some of the best in the industry. Pictured above is one of our stallions, RHA Classical Sharif (2016 HOY-under division), 3x National Hall of Fame (HOF, Silver HOF & Gold HOF). He is also the receipient of many Supreme & Champion of Champion titles. Our other stallions are Alliance Redis High Roller (a Mutliple World Champion), and AE American Gigilo (Stryker).
My love for the miniature horses has brought us to the point we are at now. Breeding, selling and showing our own horses is something that I never thought I would be doing. I am also very blessed to have a wonderful husband who likes the horses and horse shows as much as I do.
me pointers on prepping my own show horses.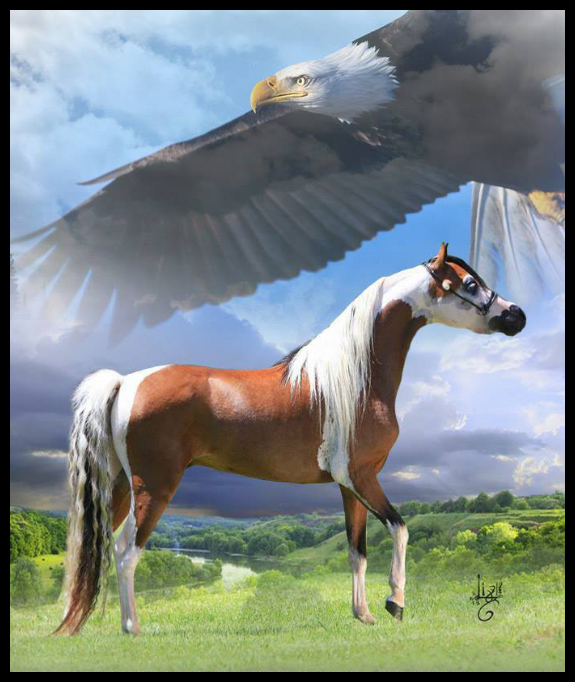 A few pictures of our horses . . .